Running round the clock, juggling one task after the other, and quietly shouldering all responsibilities of the household – being a mother certainly can't be a piece of cake. We take pride in saying how women, especially mothers, are the embodiment of multitasking, but what we often fail to acknowledge is that motherhood can be equally exhausting. If we were to make a list of a mother's priorities, her own well-being de ella would undoubtedly linger somewhere towards the end-lonesome, mindlessly brushed aside.
According to the 'Global Motherhood Survey,' a research conducted by the Mullenlowe Group, Indian mothers are 36 times more likely than their peers from other countries, to agree that 'the child always comes first.' Which is to say, the opportunity to do nothing, however mundane it sounds, is actually exotic for them. We talked to moms to find out if they ever get to bestow themselves with some 'me time', and their responses simply reiterated how rare yet extremely necessary their downtime truly is!
'Early mornings are the best time to slow down and let loose'

Weekdays are usually filled to the brim with commitments for Rituka Negi, as she fulfills her duties as a freelance content creator, a wife and a mother. However, every morning from 5:30 to 7:30, just before the hustle of the day catches up with her, she finds her own little ways to unwind. "I meditate, exercise, go for walks, and share titbits with friends – those two hours in the day are just for myself," she says, adding, "If I miss out on my morning routine, it ends up impacting my mood for the entire day."
Sharing anecdotes with friends and creating happy memories with them is what matters the most when it comes to taking time out for herself. Ask her if she wishes to take off on a trip someday with them, and she says, "Who wouldn't wish to do that? But there's just one concern – after returning, I'd have twice as much work – fixing everything that wasn't taken care of while I was away." For all the hustling mothers out there, she has just one message – "Priortise yourself. Especially on weekends, when your partner is home, choose to relax – you can dust that corner later."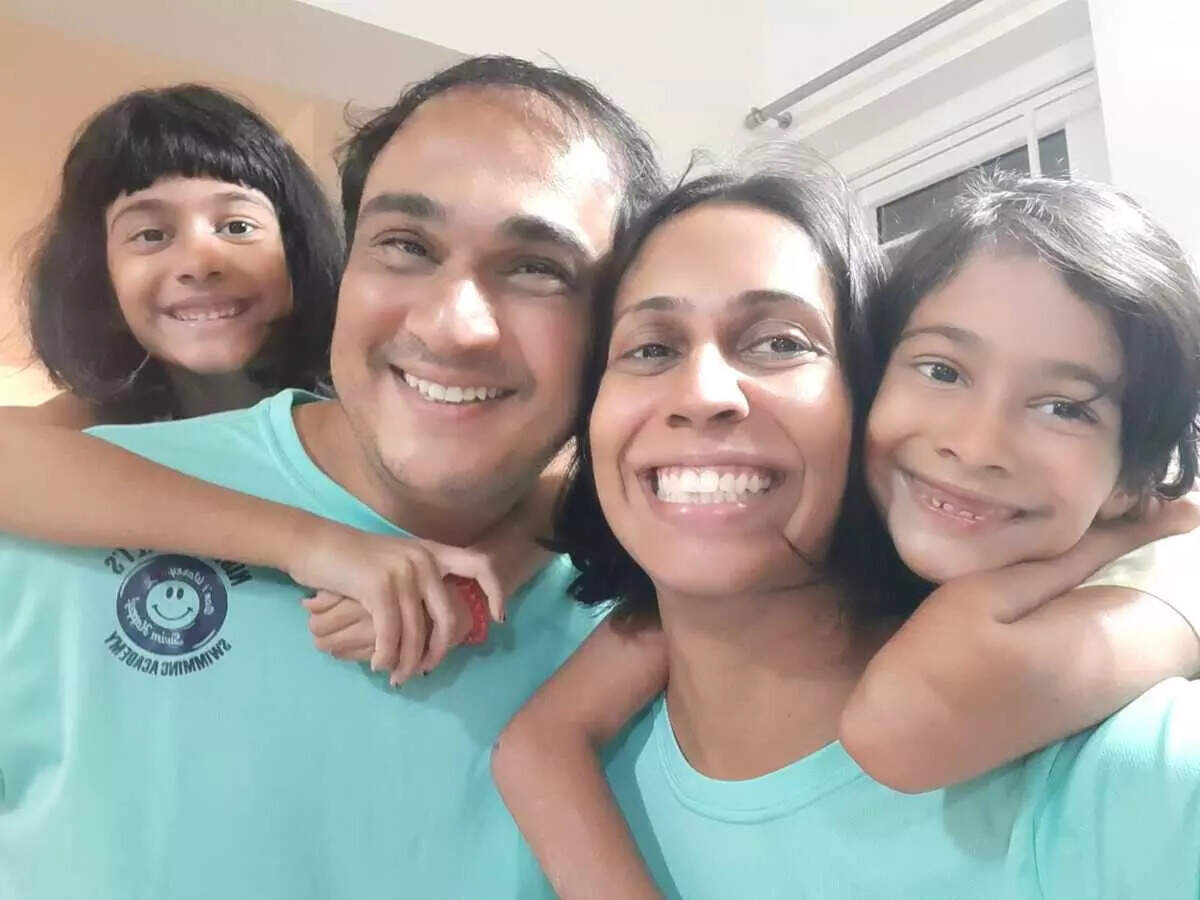 Bengaluru-based mother of twins, Nisha Millet, an Olympic swimmer and coach by profession, shares a similar view point. Aside from running a swimming academy and spending time with kids, her early morning leisurely hours are her key to self care. "I am not a morning person generally, and would like nothing better than to just sleep it out and wake up late. But I have realized that if I want to workout, go for a run or simply read a book, I have to do it early in the morning. I rediscovered my love for reading during the pandemic, and going for solo runs. I have always preferred company but of late I have begun enjoying my own company a lot. Especially when your kids start growing older, it becomes important to get your life back," she says.
She suggests a quick way for mothers to unwind – just like you schedule your work, schedule your fun times too – no matter what it is, a quick getaway with friends or some heartwarming time with kids. "Looking at your calendar shouldn't be a grim practice – along with work, you should always have something fun to look forward to," she adds. Mothers often themselves fail to realize how overworked they truly are – always on the move, so much so, that not doing anything ends up birthing a feeling of guilt. "Self-care can mean different things for different people. For me, I have always loved a good challenge, so opting for the 50K run was my own form of self-care. At some point, you really have to self-regulate and prioritize yourself."
Having carved a niche for herself in the teaching sector, and leading a happy family life, Mumbai-based mother Prajakta Dave thinks her me-time is the only aspect where she's still an amateur. "I often find myself saying 'I want to do this,' but if I actually end up doing it or not is an entirely different matter. Off late, I feel I have started chasing off-time more than actually having it," she shares. Penning down her thoughts of her has always been her forte of her, and every chance she gets to do it now is therapy enough for her. "I have a journal which I like to update every now and then. Some entries are just random scribblings but, at times, when I feel inspired, I write some poetry as well. On days I am unable to do that, taking my dog ​​out for a walk also helps. Mothers, including myself, have a tendency of not letting their worries go, but ensure to do whatever helps you be unfazed for real, even if it is for a brief time," Prajakta adds.


'Moms manage everything, but they shouldn't feel the need to'
While we can talk endlessly about how every mother needs stipulated self care hours everyday, it is equally important to ensure she actually has any time to spare. "From the minute-to-minute duty of watching over her kids, feeding them nutritious meals to helping them with studies or careers in general – a mother is always 'on!' Now add her own career, work commitments, family issues, receding hormones post-delivery or peri/post menopause or any other health component thrown into the mix. It is a tall order – A tough job by any standard in any country in any combination of support systems. They do it out of love, but if self care and emotional care is not processed simultaneously – there might come a time when it all accumulates, leading to breakdown," says life coach Kalpana Nair. It comes as no surprise that under such circumstances, mothers' own needs to take the backseat.
Amid the demands of several roles she continually plays, mothers are often denied the very basic of joys – a chance to explore her life, her wishes and just simply be. Letting her choose the way she wishes to spend her time should be on every family's checklist. Nair says, "Let things slide. You don't have to be superwoman. Don't do the dusting today, take a timeout. This is essential to rewire your neural pathways. Social activities are important: Go partying, laugh, meet your friends, do Zumba together, go for boozy brunches, have weekly date nights with your partner, look stunning even at home – for yourself. All these are your fun things to do. Add a new list every week and reignite your hobbies. This ensures that you are refreshed for the one activity that you must not be disengaged from. Being a mother is not easy. You did not have a handbook nor a job description for this role. But remember, you have done the best you can."
Stats speak louder than words:

Momspresso's Moms Happiness Index 2019 revealed less than 50% of mothers are happy about their current state of life
A Linkedin survey stated 47% of working mothers experienced more stress during COVID-19 pandemic. 42% said they were unable to focus on working with their children at home
A study by University of Pennsylvania said having less than 2 hours of free time a day can impact mothers' well-being
A survey by online platform Happify revealed mothers spend an extra 10 hours per week on everyday tasks as compared to fathers
.